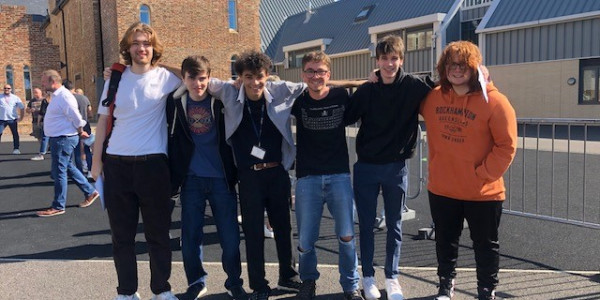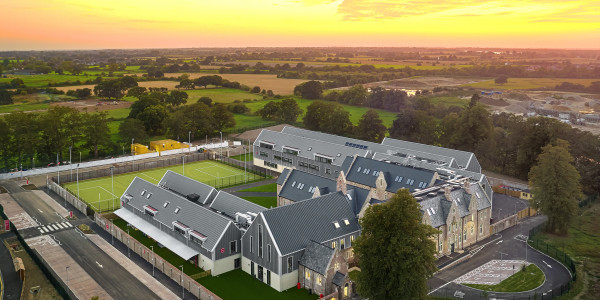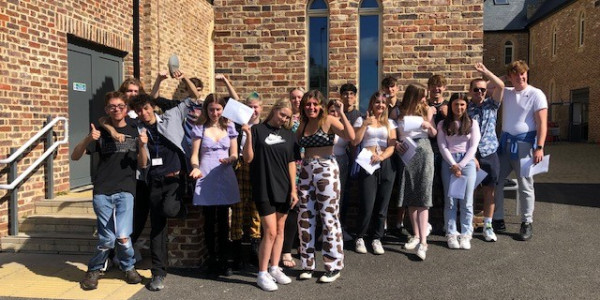 As the sun shone this morning, Year 13 students nervously opened their A Level Results envelopes, with tears of joy and relief. Many of these students have been at CFS for seven years; one of the School's founding cohorts, who have lived through the School's temporary site, move to its fantastic new premises and of course the global pandemic. Despite everything that they have faced over the last 18 months, with unprecedented disruption to their A Level studies, the students were today celebrating some amazing A Level results across all subject areas. These have been awarded after a robust and intensive assessment and examination period. 
Mrs New, Principal, said, 'It is hard to put into words my pride today. I have known and taught many of these amazing young people since they were 11, and to see them celebrate results that have been seven years or more in the making has been an absolute privilege today. They have not let Covid stop them; it was not a barrier it was a challenge, and one they have risen to with humility, good humour and maturity. I wish them all well as they enter into the worlds of university, work, travel and employment. I sincerely hope they won't be strangers to CFS in the future.' 
Head of Sixth Form, Mr Angell, added, 'What a day, and what an exceptional group of young people. They have earned today, there is no doubt about that, and I hope they will hold their heads high in years to come and say – "I not only survived doing my A Levels during Covid, but I did it in style." Well done Year 13, we are so proud of you!' 
Particular success was achieved today by Eleanor Thomas, with four A* Grades and an A Grade. Eleanor is planning on reading Biochemistry at the University of Bath. Elliott Wright added to his AS A Grade from last year, with a perfect sweep of four A* Grades today. Next year, Elliot will be at the University of Birmingham reading Physics.  Straight As were also awarded to Lucy Underhill and Ben Lawrence, with other top flight results going to India Anderson, Matthew Ayling, Leo Bather, and Kesiah Ide. 
Huge congratulations to all in Year 13 at CFS!